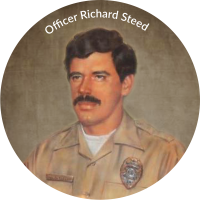 Officer Richard Steed was shot and killed while responding to what was believed to be a medical assistance call on El Camino Real in which a person claimed to have slashed his wrists. When he arrived at the scene he was shot by the person who had requested the assistance.

The killer fled the scene but was arrested approximately eight hours later in a nearby parking lot and is incarcerated at a mental hospital, deemed incompetent to stand trial.

Officer Steed had served with the San Clemente Police Department for less than 2 years, and had previously served with the United States Marine Corps. He was survived by his wife.
A park in San Clemente has been named for Officer Steed and a portion of Interstate 5 has been dedicated in his memory. He was the only member of the San Clemente Police Department to have been killed in the line of duty. Policing services in San Clemente now are provided by the Orange County Sheriff's Department.